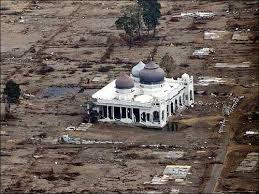 We need blast of change, that's my hope first..! my lovely land, Aceh, here we go. This is my experience when i was feel the tsunami coming to broke my house, my friend's house. At the moment i think that's downfall, but nothing else matter more, this happened in Aceh only, December 26, 2004. Let me tell what i know bout this.
At 8.00, Sunday, when i'm  going to take bath, i feel  something shaky around of me, this is earthquake i think, i take my towel ag
ain, and go out to meet my family, make sure this is under of control, but i saw many gloomy face there. Exactly, this make me afraid, with my towel i took my younger sister who's still sleeping in the room. It was 9.7 SR seemapperently, oh my lord, everything is shaking there, we all wait about 15 minutes till it calm outside, i go in to my home when it stop, nothing happen in my home, just some glass broke, i'm  going to take bath again, cause i've school private learning at nine. When i finish bath, i hear some fucking buzy voice out of my home. I took my cloth fastly cause i embittered what happen there . Oh m god, that's real i think, everybody out of control, running, screaming, crying, i din't know what's really matter is, just told my mom, "don't worry" my dad said, huh,, i know he was trying to make us calm, half hour pass by offhand. Suddenly a man who ride the motorcycle bawling, "run..! run..!", my family go out to make sure about it, when we walk till the front door, we see a boat crash my neighbour's home, and everything be unclear in my eye, i'm forgetting on all momentary, then i remember my younger sister, she just a child, she can't to swim, but i can't move, many block and brush trap me, i try to rise up to take some breath, when at surface, i see no body one, nothing voice, that's very quiet, i don't where i'm going, only god know where i've been, i'm a double of a round to my younger sister and my parent's, my mom rise up suddenly, she's holding my sister, thanks god, i take both of them to the roof of my home, then i see my dad's holding a block not too far from us, i call him there, we wait at the roof for 5 hours, wait for the water come to low.
We saw everybody be calm down when the water has been turning off. Ok mom, it's time to go i said, but my dad asked me to search my home if there is a few thing in my home, we need it to sufficient our life then maybe, and oh my God, it's the first time i see remains directly, no scare no afraid, cause i think i had a bigger cower then. We got nothing there, everything is really mussy now. My home coming to house now.
We back outside and then i called my mom and my sister to go down from the roof, we all, my family's safe now i think, thanks God. We walked to jambotape then, not far from my home, house maybe. We look for help there, we got it by awhile although that's from the resident there, this is my story, my unforgottable moments. Thanks.